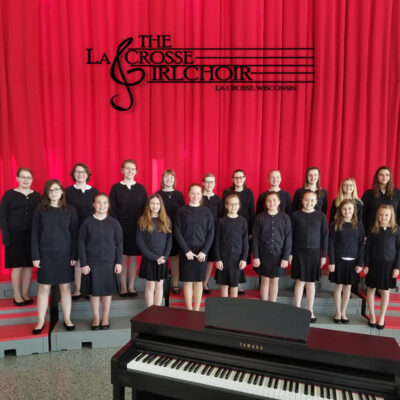 Girls Ages 7-18 Sharing A Common Love Of Singing & Expression Through Song
The La Crosse Girlchoir has been a music education staple in the La Crosse community for decades! The Cappella Performing Arts Center is proud to offer our facilities at no charge to the LGC as their primary rehearsal and performance space.
Help Us Support The La Crosse Girlchoir
Please consider joining us on our mission by making a donation. 
Dedicated to the musical, social, & character development of girls!
About The La Crosse Girlchoir
The La Crosse Girlchoir was organized as the Three Rivers Girls' Chorus in 1987; ten years later it was re-named the La Crosse Girlchoir. Girls ages 7 through high school come together to share a common love of singing and expression through song while receiving expert instruction in vocal technique, music theory, sight reading as well as performance etiquette and poise. All of the young ladies are held to high expectations with an emphasis on self-discipline and commitment to all rehearsals, concert venues, and tour locations.
The La Crosse Girlchoir welcomes girls of all ethnic, economic, and religious backgrounds.